September 30, 2020
Tiny Homes vs Mobile Homes, RVs & Trailers: Which Is Right For You?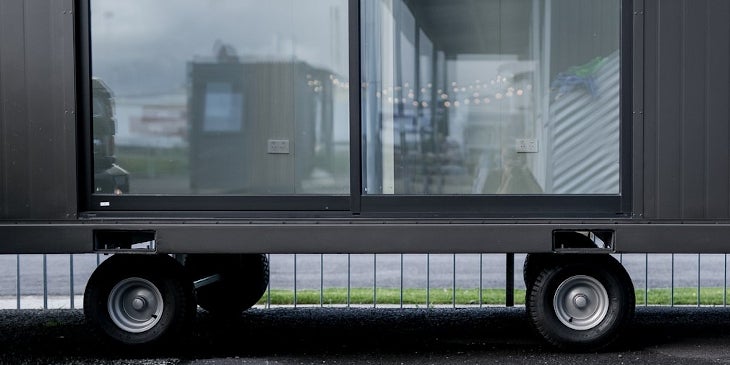 A Mobile Home? RV? Trailer? Or Pod? As more Kiwis look to enjoy the benefits of a tiny or transportable home, today we're exploring all the options so you can make an informed choice.
The tiny, transportable home trend is well and truly taking over!
What's not to love about decluttering your life, freeing up cash, and being able to go where you like, when you like, and take your house along with you? It's this flexibility – and affordability – that has been the major drawcard for Kiwis thinking of joining the tiny living trend.
If you're keen to join the thousands of Kiwis across the country living big in a small space, the first step is deciding what the new roof over your head is going to look like. The options can be overwhelming. Is a Mobile Home better? How about an RV or Trailer? Perhaps a portable Pod?
Fortunately the decision doesn't have to be too difficult! That's why today we're taking a look at the upsides, downsides, and all the other sides of the transportable home options available on the market today to make your life – and decision – a little easier.
Mobile Homes
There's something nifty about a mobile home. Compact yet highly functional, they're a great way to travel and take your accommodation with you. Here are some things you should keep in mind if you're considering hitting the road:
Pros
You have the freedom to move around
Go anywhere, anytime and have plenty of space to stretch your legs! Mobile homes are a combination of vehicle and accommodation, making it easy to get in and go whenever you like.
They're cheap as chips
From basic to elaborate, mobile homes can be as inexpensive as you like. They're typically the cheapest option and include a kitchen, bathroom, dining space, and beds.
Cons
You'll need to find a spacious parking space
You will need to find land to rent or buy if a mobile home is your choice for permanent housing.
Ongoing fees and charges can prove costly
Mobile homes are somewhat inexpensive, but their road user charges are ongoing. Your mobile home may require both a Warrant of Fitness (WoF) and a Certificate of Fitness (CoF), both of which can be costly and when it comes to insurance, the bigger your mobile home, the higher the cost.
They're not the best choice for permanent living
Mobile homes provide everything you need for a great getaway or an extended stay at a campsite, but they don't make an ideal choice for permanent living.
RVs
RVs are a step up from mobile homes, with more space and better facilities. Designed for comfort during long road trips, RVs are great for anyone looking for luxury accommodation on wheels. Let's take a look:
Pros
They're ideal for road trips and travel
RVs are a home and vehicle in one tidy package. This luxury mode of transport is perfect for those who love to travel in comfort and style. Need a bathroom break? Craving a snack? No problem! With everything you need onboard, it's easy to travel long distances in an RV.
You'll save a pretty penny in accommodation costs
While RVs can be costly, owners don't have to fork out on hefty accommodation costs while on the move. Find an appropriate spot for freedom camping or pay a small nightly campsite fee.
Cons
You'll need to be confident behind the wheel
RVs are very large, so you'll need a good level of confidence to maneuver them.
On-road costs are, well, costly
The cost of insurance and road user charges are high, and as notorious gas guzzlers, the cost of refuelling is much higher than filling up your car.
They can prove to be a pain in packed traffic
RVs are best used in the outskirts of towns and cities. Being so large, it isn't easy to weave an RV through traffic or find a parking space big enough for the vehicle.
The resale value can drop, quickly
Much like mobile homes, the value of an RV depreciates from the moment you drive it away for the first time, so it's best to get as much use out of them as possible.
Trailers
Trailers have long been used as temporary or permanent accommodation, providing owners with the flexibility to stay or go as they please. Here's what you need to know:
Pros
Enjoy a little extra space to live
It's much easier to create a permanent home from a trailer than it is with a mobile home or RV. Detachable additions and awnings allow for more living space and help to create a long-term living setup.
Have your trailer, and your car too!
Trailers attach to the tow bar of a car or truck, allowing separate car use. This is great for travelling as it makes it much easier to move around a busy town or city.
Cons
Inexperienced drivers need not apply
If you're not a confident driver, it's best not to opt for a trailer. Careful driving and backing are necessary to move trailers from A to B. You will also need a strong car with a tow bar to travel with your trailer.
You'll need to find a permanent parking spot
As it's not legally possible to live in a camping ground all year round, owners must purchase or rent a permanent piece of land. Residential areas may not allow for permanent trailer parking, so you're better off searching for land rurally.
Extra on-road fees and charges still apply
Road user charges and insurance still apply to trailers, regardless of whether they're used as travel accommodation or a permanent home. This includes servicing, registration, and Warrant of Fitness.
Tiny Homes
The tiny home trend has gained momentum as more people cotton on to the advantages of minimalist living. With house prices continuing to skyrocket, tiny homes are an affordable option. Let's take a look:
Pros
Cons
They're portable, to a point
Adding wheels to your tiny home or Pod is a cost-effective way to add portability, but they don't offer the same on-road flexibility as a dedicated portable option such as an RV, Trailer, or Mobile Home.

Think 'transportable', not 'portable'!

Finding land can be tricky, but it isn't impossible
Finding land to rent or purchase can be difficult if you're looking to live near any main centres. Aligning with a like minded community such as LandShare will connect you with landowners looking to lease or sell their land.

Looking for space? Check out our guide to land to rent or buy in New Zealand.
Portable homes? Kiwis are spoiled for choice
While the choice can be a little overwhelming at times, finding the right tiny or portable home for you has never been easier. We hope today's article was able to shine some light on the pros, cons, and perhaps a few things you may not have considered so you can make the best possible choice.
Looking for more small space inspiration? Take a look at our other posts and be sure to check back later as we continue to explore the spaces where everyday Kiwis live, work, and play!