November 25, 2020
Off The Grid Living In New Zealand: Everything You Need To Get Started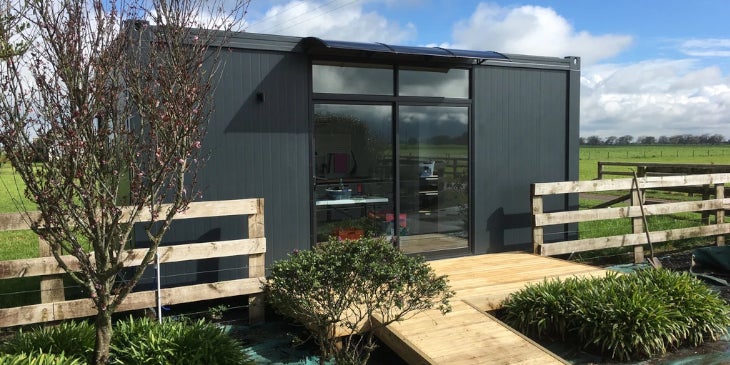 There are great joys to be found in life's simple pleasures, so today we're looking at how you can join the growing trend of Kiwis trading the daily hustle for a peaceful, quiet life "off the grid".
Going off the grid is the ultimate escape from life's burdens.
Well, most of them at least! While it's difficult to fully disconnect from the modern rat race, there's a growing number of everyday New Zealanders who are deciding to reduce their stress, saying "sayonara!" to the city, and starting to enjoy more of life's simple pleasures.
If it all sounds a little too good to be true, it doesn't have to be. In fact, that could be you! Going off the grid takes a little time and planning, but there are so many options available these days that living life your way doesn't just have to be a daydream anymore.
The big question is, where do you start? The questions can be overwhelming. Where will you live? What about electricity? Water? Internet? Well, you're in luck! Today we're exploring the practical steps you need to take in order to simplify your life and start living off the grid.
Step #1: Determine how "off the grid" you want to go
Before you make any hasty decisions, think about how far "off the grid" you want to go.
Do you want to move to the middle of nowhere and be one with the wilderness? Or do you want to be somewhat close to family and friends? Going all-in requires a little more self-sufficiency when it comes to necessities such as waste, water, and electricity.
Weigh up your options, and pick the one that best suits you and your new lifestyle.
Step #2: Work out where you will live
Whether you're going to live by the coast for a little sun, surf, and sand in the North Island or you'd enjoy waking to the frosty mornings and snow-capped mountains of the South Island, there are two things to consider here: a roof over your head and land to stay on.
Land
Behind every successful off-the-grid Kiwi citizen is the perfect piece of land. It's finding that land that can be tricky. Fortunately, you can secure your piece of paradise without blowing the budget. Let's take a look at your options:
Rent a section of land
Amidst surging property prices, many people are looking for an affordable alternative to hefty home loans and large mortgage repayments. The trend has led to the creation of sites like Landshare that advertise empty space across New Zealand, many of which are off the grid and perfect for your new life.
Purchase a piece of property
If you're in a position to purchase land, you'll find it more affordable the more "off the grid" you go. The further away you are from major towns and cities, the cheaper the land will be.
Looking for land? Check out our guide to land to rent or buy in New Zealand.
Accommodation
Living your life off the grid doesn't have to be uncomfortable. You may be picturing a cramped log cabin or makeshift accommodation, but there are a number of warm, spacious options on the market today that make great off the grid homes.
Take our Podlife Pods, for example. They give you the best of both worlds. Made with quality materials and fully customisable, a Podlife Pod can be anything you want it to be. You'll enjoy all the comforts of modern living such as a kitchenette and bathroom, with the option to add a deck, cedar screen, or macerator pump if you choose.
Pods are a great alternative to traditional container homes, tiny homes, or portable cabins. In fact, you can even pop your Pod onto a trailer to quickly and easily turn it into a transportable tiny home.
RV? Trailer? Tiny Home? Check out our guide to which tiny accommodation is right for you.
Step #3: Decide which necessities you will need (and where you'll get them)
Living off the grid isn't an all-or-nothing affair. These days there are so many options available that you can be as self-sufficient (or not!) as you like while still enjoying all the peace, tranquility, and stress-free living that comes with an off the grid lifestyle.
Let's take a look at your options:
Power and electricity options
Solar
If you want to cut long-term costs and live as sustainably as possible, consider having solar panels installed to generate electricity. While the initial cost is substantial, the ongoing costs are extremely low.
Solar panels have a life span of approximately 25 years, and will also add to the value of your humble little home. New Zealand has a number of solar providers in every region, such as:
Electrical
All of New Zealand's electricity providers supply power to rural areas. However, depending on how far out you're going, the installation of power to your new property may or may not be feasible. Or affordable! It's best to check in with the providers that operate in your area.
If you're purchasing or renting land that is close to – or already has – power facilities, it's quick and easy to get connected. New Zealand has countless power companies to choose from in every region, such as:
Web-based Electricity Providers
Did You Know? Podlife Pods come complete with electrical wiring. All you need to do is a power source.
Water Supply
Connection to local water supply
Fortunately, it's not difficult to connect to a mains water supply in most areas of New Zealand. If you like running water, be sure to check that your land has access to a water supply before renting or purchasing.
Rainwater collection
With New Zealand's clean air, rain water tanks are a great option for those who love the idea of being as self-sufficient as possible. If this sounds like you, be sure to check your tanks regularly to keep them free of contaminants.
Waste management
Chances are you won't be able to connect to main sewage lines if you're living far away from a major centre. In this case, you will need to hook up your home to a septic tank which will require professional emptying every three to five years.
Don't Forget: If you're considering a Pod, take a look at our macerator pump add-on. It is a handy feature that can be added to Pods to grind waste, making it thinner and easier to move to your septic tank.
Appliances
Heating
If you're looking at moving to an area with extreme temperatures such as the lower regions of the South Island, you will need a heating device. Fortunately, it won't take long to make your space nice and toasty!
Did You Know? With double glazing and quality materials, Podlife Pods are naturally warm.
Cooking
It's important to have means of cooking to ensure some foods are safe to eat. Gas cooking appliances are usually your best bet, especially if you're too far out of the way for a standard power connection. There are a lot of options available to you, so take a look.
Internet options
Some people decide to live off the grid in order to escape technology, but if you're one of the many Kiwis who simply can't live without online banking, YouTube, or Social Media, there are a number of options available, such as:
Standard Internet Connection
If your property is close enough you should be able to connect to New Zealand's existing network for ADSL Broadband or Fibre internet. Not sure if you'll be covered? Visit the Chorus website and simply enter your address.
Satellite Internet Plans
If you want to stay connected with the outside world, these internet providers have far-reaching satellite plans that, while a little more expensive, are ideal if you're going to be living in a remote location.
Cell Phone Data / Hotspots
If you have a smartphone, then you have internet access! Most areas of New Zealand have cellular access these days with coverage constantly improving, so it should be easy to get connected and use your mobile connection to browse the web.
Need a laptop or desktop connection? Switch on your mobile phone's hotspot to use your cellular data to connect other devices to the internet. This should provide you with enough data to pay bills, catch up on the news, and do a little browsing.
Off the grid living is a great way of life
Have you been thinking of simplifying your life? There's never been a better time to say no to soaring house prices and live a simpler, more satisfying life. We hope today's article has helped inspire you to realise your dreams of living off the grid, whatever that might look like to you!
Looking for more small space inspiration? Take a look at our other posts and be sure to check back later as we continue to explore the spaces where everyday Kiwis live, work, and play!