January 13, 2021
(Tiny) Home Away From Home: Why Sophie's Airbnb Is A Podlife Success Story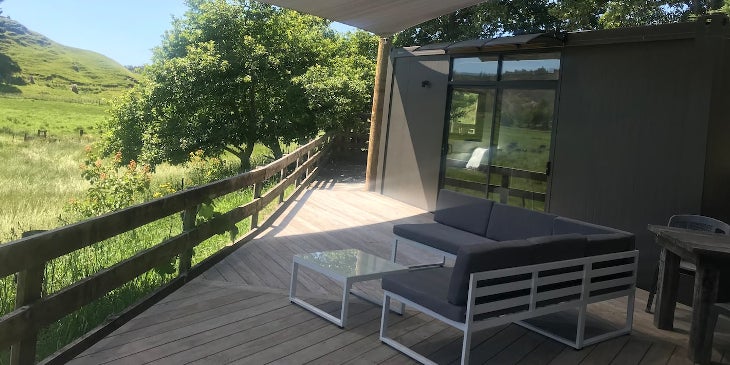 Does embarking on an Airbnb enterprise work during a pandemic? Turns out it does! Today we're learning how this fab Kiwi duo went ahead with this sweet-as Pod set-up, and came out winning.
COVID-19 turned 2020 into a year we never could have imagined.
As the pandemic continues to surge around the globe, escaping abroad is off the cards. Indefinitely. But Kiwis are an ingenious bunch, and so we've quickly embraced the year of the 'staycation'. We've started exploring our own turf, supported local business, and kept the accommodation industry afloat.
For Airbnb hosts in particular, there were moments of panic early on regarding cancelled bookings, reduced demand, and loss of income. Thankfully, hosts nationwide have been able to retain a steady return on investment during one of the most unpredictable years of our time.
Sophie from White Pine Bush Cabin in the Bay of Plenty is one such example! Today she's sharing with us her experience starting an Airbnb in 2020. After investing in two Podlife Pods for rental accommodation, Sophie has been "blown away" by the year's unexpected success.
Two Podlife Pods, endless Airbnb bookings
Sophie's property in rural Bay of Plenty is nothing short of idyllic. Surrounded by lush green valleys and rolling paddocks, it's the perfect place for peace and quiet. Knowing she owned something extraordinary, Sophie decided to set up Airbnb accommodation and let others enjoy the beauty of her land.
For Sophie, Podlife Pods were a fuss-free choice for creating comfortable, quality guest accommodation.
"We really wanted to take advantage of the land that we had" says Sophie, as she discusses her choice of Podlife Pods. "Up near our house is quite cramped, but we've got quite a bit of land".
Sophie invested in two Pods that she placed side by side. One Pod has a queen bed and modern bathroom; the other has a full kitchen, dining area, and living space. With spacious decking joining the two Pods, guests have plenty of space to enjoy expansive views of the farm.
The plan was to launch her Airbnb at the beginning of 2020, but COVID got in the way. "We ended up launching in June 2020", says Sophie, as she talks of her low expectations in the early days. "We didn't expect we'd get much".
But Sophie's Airbnb success was instant – "From day dot we were having multiple bookings per week".
When the reviews came flooding in, Sophie knew she'd made the right choice to go with Podlife for her Airbnb venture. "All the feedback was really positive", says Sophie. "[Guests] loved the setting and kept commenting on how stylish our Pods were".
Kiwi Airbnbs in high demand despite global pandemic
Sophie is one of many Airbnb hosts giving Kiwis a place to stay while they (re)discover the beauty of New Zealand. As the northern hemisphere hunkers down for a cold, lonely winter, New Zealanders are taking advantage of their freedom by travelling the country and booking out Airbnbs in every region.
Sophie had two 17m2 Pods built and positioned them next to each other to provide more space for guests. Using one Pod for sleeping and the other for living meant Sophie could keep costs down by minimising additional features and treating the two Pods as one guest house.
With domestic tourism thriving, 2020 has turned out to be a great year to invest in an Airbnb property, but the New Zealand housing market hasn't exactly made it easy to purchase a second property.
Podlife makes the dream of owning an investment property and becoming an Airbnb host a reality for New Zealanders. With prices for Pods starting at $10,995, creating your Airbnb through Podlife significantly reduces your total investment cost.
All you need is the perfect little piece of land to place your Pod.
Podlife Pods – a smart Airbnb investment
Sophie's experience highlights how successful New Zealand Airbnb hosts have been, despite the global pandemic. Podlife provides a modern, affordable accommodation solution using high-quality materials. If you're thinking of starting an Airbnb and want a high return on investment, consider Podlife.
Looking for more small space inspiration? Take a look at our other posts and be sure to check back later as we continue to explore the spaces where everyday Kiwis live, work, and play!