February 19, 2021
Buying An Airbnb Investment Property? Try A Tiny House!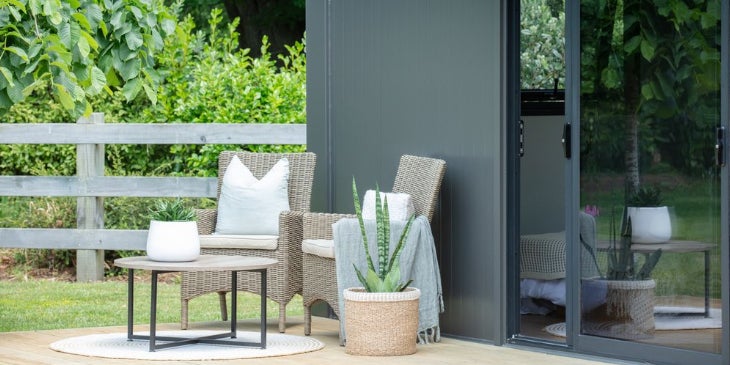 Tiny houses offer great Airbnb earnings potential, so today we're looking at why it's still a great time to invest and how you can become a key player on the world's leading temporary accommodation website.
Airbnb has over 6.1 million listings worldwide, with 37,000 of those in New Zealand alone.
Since its inception in 2007, Airbnb has enabled property owners around the world to tap into the tourism market and make some extra cash. Offering cheaper alternatives to hotels, Airbnb has increasingly become the preferred way to travel and stay across the globe.
Owning your own investment property doesn't have to be a pipe dream. Tiny homes are the perfect way to earn more while investing less. In fact, a tiny home is one of the most affordable investments with the potential to bring in some serious profits if managed successfully. Just ask Sophie!
If you're looking to invest in an Airbnb property, settle in. Today we're going to be looking at how you can create a tiny home Airbnb and become a successful, sought-after host. We've got all the tips and tricks to set you on a path to rave reviews and huge returns.
Wait, so why is a tiny home a good Airbnb investment?
Setting up an Airbnb can be daunting, particularly when it comes to ensuring you have enough bookings to cover costs. While some people often look at converting the space they already have for hosting, purposely investing in additional space allows you to leverage the rising demand for cheaper options.
There is always an element of risk to any property purchase. This much is true. However, the novelty, simplicity, and comfort of a tiny home makes them one of the more low cost, low-risk investment options available. It's why they remain one of the most popular accommodation choices on Airbnb.
Whether you're welcoming international travelers or catering to a thriving domestic market, there will always be demand for a great place to stay. With Airbnbs across the country usually fully booked long in advance, owners are celebrating one of their most successful periods yet.
If there was ever a time to invest in an Airbnb property, it's now.
Here are some great ideas for maximising your returns.
1. Invest in the perfect location
For an Airbnb to hit the ground running, it's all about location.
Your property's location is one of the key drivers for bookings. The more your location has to offer, the more bookings you will receive. Whether it's a secluded spot on your property or a convenient location close to an urban centre, where you decide to put your tiny home is the most important decision.
The beauty of purchasing a tiny home for Airbnb is that it won't be difficult to find an affordable location. Your tiny home won't need a lot of space. It just needs the right space. Once your tiny home is settled on its perfect piece of land, you can create your listing on Airbnb.
2. Create an attention-grabbing listing
It's easy to create just any old listing. It's the ones that put the effort in that truly stand out. With more than 37,000 listings on Airbnb in New Zealand alone, setting yourself apart from the rest is your key to grabbing the attention of weary travelers looking for the perfect tiny home.
Here's how to give your Airbnb optimum booking potential:
Make sure your listing is complete and compelling
A comprehensive listing lets guests know exactly what your property offers. With a compelling title and well-written descriptions, you will go a long way in earning a reputation as a professional host. Make sure you cover everything, from amenities to the area's key attractions.
Use professional photos
Photography is the most important part of marketing your property. Professional photos use effective lighting to create the perfect first impression and showcase your property in a way that can't be captured through amateur photography.
Set competitive prices
As price is a key factor in choosing between shortlisted Airbnbs, it's important to stay competitive throughout your Airbnb journey. Learn from other hosts and start with conservative prices until your property gains traction on the site.
Be responsive
Airbnb hosts often overlook the importance of quick communication. However, travellers appreciate quick, friendly responses that ensure they'll get what they need from their accommodation. Responsiveness is a simple way to enhance your listing.
3. Go above and beyond to maximise returns
Tiny homes grab the attention of accommodation seekers across the board. Here's how you can maximise the returns on your Airbnb investment by exceeding the expectations of your guests:
Create a unique accommodation experience
Add special touches that enhance guest experiences and give them more than they bargained for. Wow your guests with unique interior décor, comfortable outdoor settings, or luxurious bedding. The minimal space in a tiny home gives you more freedom to jazz it up while keeping costs down.
Become a key player on Airbnb
Get those rave reviews rolling in! Becoming a key player among the thousands of Airbnb listings relies on how much your guests enjoy their stay and the reviews you receive. The better your reviews, the more bookings you'll get. The more bookings you get, the higher your listing will rank on Airbnb.
Podlife Pods are the ultimate Airbnb investment
If you want affordability, flexibility, and high earnings potential, you can't beat a Podlife Pod!
Pods are the best solution to earn more while investing less! With prices starting at just $10,995 inc GST, they offer a very attractive return on investment. Not only are they high-quality, low cost, and customisable, they are also a proven success on Airbnb.
With Podlife, you're not bound to one standard design. You can customise your Pod to suit its location and purpose. Add a deck for outdoor living, decorate the exterior with an awning, or do what our friends at White Pine Bush Cabin have done and join two Pods to create separate sleeping and living spaces.
Podlife Pods come in a range of sizes to suit your location. The best part? We'll take care of all the boring stuff like compliance and electrical work so you can relax and enjoy the Podlife process. We're here to help Kiwis fulfil their dreams of extra space to live, work, play…and invest!
Investing in an Airbnb property is easy with a tiny house
Getting into the property market is out of reach of most Kiwis these days. Thankfully, the popularity and affordability of tiny houses makes them a great first home or investment! With the right space, a great place, and an eye-catching listing, you can earn a little extra income via Airbnb.
Looking for more big ideas about small spaces? Take a look at our other posts and be sure to check back later as we continue to explore the spaces where everyday Kiwis live, work, and play!